TIAC MECHANICAL INSULATION BEST PRACTICES GUIDE TO WORK IN CONJUNCTION WITH THE
NORTH AMERICAN COMMERCIAL AND INDUSTRIAL INSULATION STANDARDS MANUAL
Since 2019, the Thermal Insulation Association of Canada (TIAC), specifically the TIAC Innovators Committee, has been working with the Midwest Insulation Contractors Association (MICA) to set up an agreement to endorse their National Commercial and Industrial Insulation Standards Manual.
The agreement was finalized in late 2021 and the 9th edition has been published as the North American Commercial and Industrial Insulation Standards Manual.
TIAC's endorsement, with support from its six affiliated provincial associations, strengthens the long-time endorsement of this standards manual by the US-based National Insulation Association and their five affiliated regional associations.
TIAC members are offered a complimentary copy of the manual. Please email info@tiac.ca for details.
Non-TIAC members can purchase the manual (print or digital) for $299 US at https://micainsulation.org/.
MICA's Pete Gauchel gives us a review of how to use the fillable plates in the Standards Manual.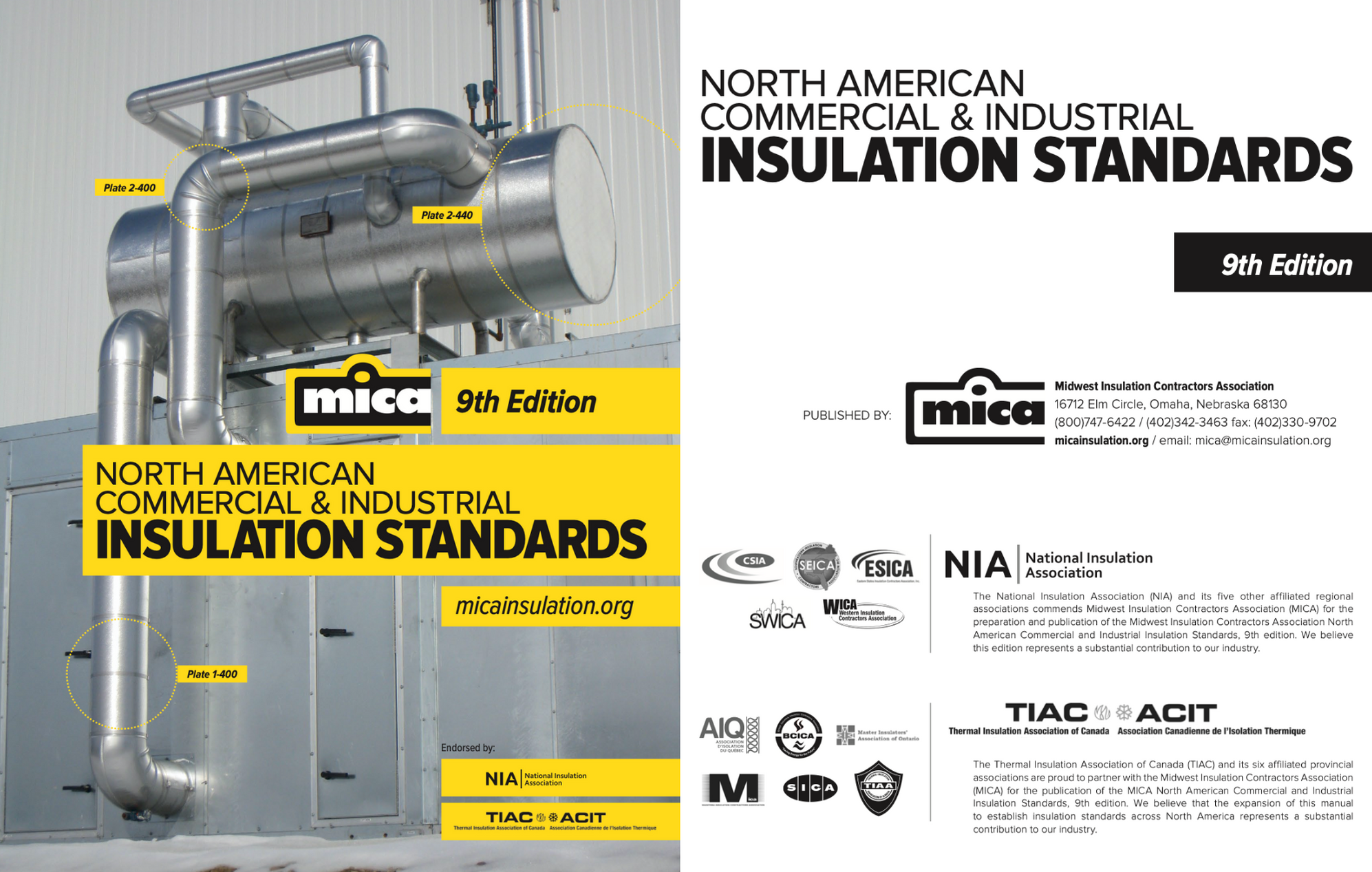 ---
TIAC MECHANICAL INSULATION BEST PRACTICES GUIDE
INTRODUCTION
The members of the Thermal Insulation Association of Canada, professionals in the manufacturing, fabrication, distribution and installation or removal of insulation materials, have determined that a "Best Practices Guide" consistent across Canada, would be of great benefit to the entire industry.
The data presently in publication across Canada varies greatly within the "design-build" community, insulation manufacturers, trade associations, contractors and individual owners or clients. To compile a set of reference materials in one document that can be maintained current, with timely updates, can only improve the economics and quality of the product supplied to the insulation customer. It will also improve the time required to estimate and the accuracy of contracts tendered by contractors.
This guide has been developed with the intent to make available a reference which can be utilized for most insulation projects in Canada. The TIAC Best Practices Guide is not meant to override Provincial specifications and other specialized project specifications. The material selection portion of the Guide is not an endorsement of any particular product nor is it the intent to suggest that products not included are not to be regarded as not acceptable alternatives.
This Guide has been prepared based on manufacturers technical information provided, however it is the specification writer's responsibility to ensure that all products comply with applicable codes, regulations and standards.
The TIAC Best Practices Guide is made up in different sections, focusing on specific areas of the industry. The document will be updated on a timely basis, to maintain a current reference point to assist in system design, material usage and application practice.
SECTION 1: INTRODUCTION
SECTION 2: INSULATION MATERIALS AND PROPERTIES
SECTION 3: SYSTEMS DESIGN
SECTION 4: PRODUCTS
SECTION 5: COMMERCIAL PIPING
SECTION 6: COMMERCIAL DUCTWORK AND PLENUM
SECTION 7: COMMERCIAL EQUIPMENT
SECTION 8: SPECIFICATION CONCEPTS AND EXAMPLES – COMMERCIAL INSULATION
SECTION 9: FIRESTOPPING AND SMOKE SEAL SYSTEMS
SECTION 10: INDUSTRIAL PIPING
SECTION 11: INDUSTRIAL EQUIPMENT
SECTION 12: DENIS FORMULA – REV #4 – METRIC
SECTION 12: DENIS FORMULA – REV #4 – IMPERIAL
SECTION 13: DENIS FORMULA – REV #4 – METRIC
SECTION 14: GLOSSARY AND DEFINITIONS
SECTION 15: MASTER SPECIFICATIONS