Dear TIAC Family,
It is my great pleasure to announce that your Board has hired a Technical Initiative and Strategic Relationship Coordinator! The process of identifying someone who has the right industry and technical experience, balanced with solid marketing and communication skills, has been challenging and took much longer than we anticipated. That said, it was worth the wait and we are excited for what will come!
On behalf of the TIAC Board, I would like to introduce you to Tristan Bertram. Tristan has grown up being part of the TIAC family ­– from playing in the office as a child while his parents worked, to summer jobs, to fulltime employment at the family business after high school. Some of his favourite childhood memories were of traveling with his family to the TIAC Conferences.
Tristan is quickly settling into his new role and has started digging into the objectives that the Board has set for him. The prime objective that Tristan will be focusing on is expanding and enhancing the value of TIAC to the membership.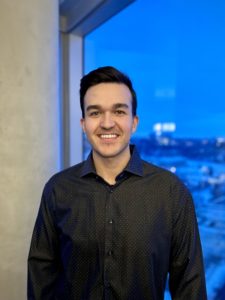 Tristan believes that "TIAC has a great responsibility being the voice of the mechanical insulation industry. That voice really comes from its members. The more value we can provide for our members, the further along we advance the industry as a whole."
For TIAC to provide more value to members, Tristan knows that he needs to go to the source (YOU!) to gather information. To learn from you. To hear what is important to you. To find out where you see TIAC being able to support you and your business.
"TIAC is a community of great people. I believe that being part of a community means you support each other, push each other to be better, and rally around a common goal."
We encourage you to take the time to speak with Tristan when he calls. These calls will also give you an opportunity to share any ideas you may have for initiatives that TIAC could take on. The Board looks forward to, in turn, learning more about what is important to you, our members, and to supporting Tristan as he takes your ideas and puts them into action.
Welcome Tristan!
Joey Fabing
President